---
---
---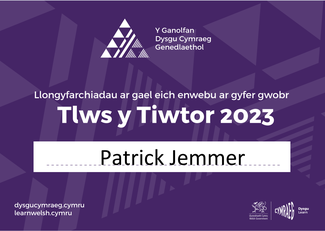 I was honoured to be nominated for this award by adult Welsh learners in 2023. It is awarded by Y Ganolfan Dysgu Cymraeg Genedlaethol / The National Centre for Learning Welsh.
---
---
---

I was very honoured to be nominated for the St David Award (in the category of Culture) in 2023. The St David Awards are the national awards of Wales and are nominated for by the public. I was supported by students (adult learners as well as A-Level and GCSE tutees), and attendees at Swansea Philosophy / Athroniaeth Abertawe events. I am extremely grateful and humbled for the consideration shown me by those who took the time and trouble to put my name forward for this prestigious prize.
---
---
---
I was nominated again for this Award in 2022, and was honoured to receive the following commendation:
"Although you were not selected as the final award winner, we at Learning and Work Institute would like to congratulate you on your success in being a finalist. As a finalist, you were one of a small group of tutors being considered by our expert panel. The panel have an incredibly difficult job in choosing a final award winner and this year was no exception. We recognise the impact of the wonderful work that you do, to contribute to the adult learning sector and your commitment to go over and above, to support and inspire your learners to transform their lives through adult education."
---
---
---
The following poems have either been published in the "poetry press," or have achieved  recognition in (inter)national poetry competitions.
---
---
---
---

---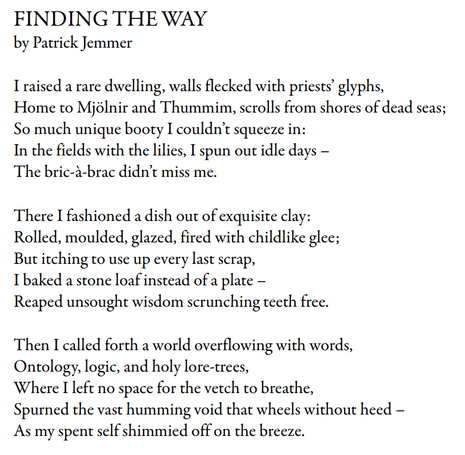 ---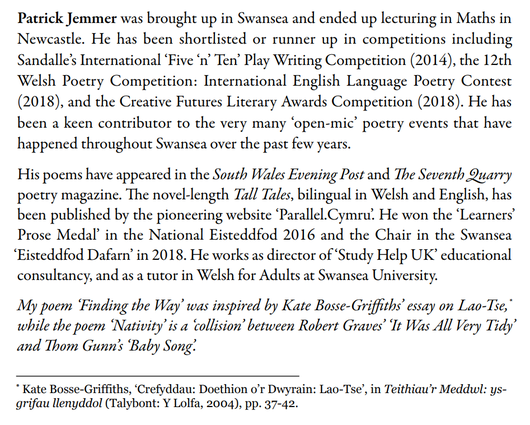 ---
Honed spell explodes, well-machined, oil-primed;
Drowned knowledge wings afresh as wild-word blossoms,
Chimeric charges through furled aether climb,
Hoofed, jewelled, incensed, sear gist's glossed existence,
Bore gimlet holes through every thought's quartz-grain;
Fuse crust to silica-sea, sweat-clammy oceans boil,
Summon that dragon that ties the sundered worlds,
Live amber-wire enthuse; out-thresh static birthing-signals;
Sprout doubtful seeds in heart-volcano ground;
Rain names upon the oath-sieve, uncoil syntax golden,
Your speech a brazen law: to mage alone beholden!
Charms ember-penetrate earth's passion-hallowed scales,
Coagulating, melting, coiling, setting right
Belief through action, base reconcile with noble;
Pool deep-gored blood-stream in hell's gory cauldron;
Light-spool white-feathered sacred sacrifice,
Fantastic prayer-flight's practised ornament;
Pearled incantations, swinish lead-wings laden,
With lusty cruel-iron voice, all destiny condense;
Words, lacerated copper-pink, and self-upholding,
Bind permafrost savanna to their wracking task:
Dark-matter weighty, unlace quivering cosmic flask!
[South Wales Evening Post: 31 July 2019 and 12 October 2019 as PM; "The Seventh Quarry" (Issue 32, Summer/Autumn 2020), edited by Peter Thabit Jones; a poetry magazine published in Swansea, Wales with an international perspective]
---
Blonde-tousled dream-child,
You channel a giggling stream,
Swimming-bath chlorined;
Joy follows your fluttering, as
You pollinate smiles,
And heart-nectar overflows;
Perfectly unformed fruit,
You drip from the bough,
Smelling of sunshine;
Beyond rainbow's edge,
With unicorns dancing,
Banishing bed-time once more.
[South Wales Evening Post: 20 September 2018 as PM; "The Seventh Quarry" (Issue 32, Summer/Autumn 2020), edited by Peter Thabit Jones; a poetry magazine published in Swansea, Wales with an international perspective]
---
I labour to dilute the fact that, yesterday,
My vaporous thoughts condensed –
And amidst the steamy distillations,
I wetly dreamed I'd managed to perfect
Electric wooing of aluminium from crude ore:
With man-size graphite bricks as anodes,
Bathed in steel-shod cauldrons, live with
Cryolite lava, lined with refractory tiles:
The reckless oxygen hiss devours the slabs,
Recharging our fragile hothouse;
As seething metal swirls in lusty splendour,
Urged on by wanton tongues of lightning
– Some cackling villain's acid-bath
For liquidating love.
Yes, I'll always recall that bitter salt, charmed
With unyielding bauxite – screams blood-wrung
By caustic leaching, costs cork-screwing, earth-
Pulverizing stress – when I stumble,
Trench-blind, across lab-books and sketches,
Long declassified, but enticingly related
To our one-time tries at alchemical rebirth
– Reactions long spent, and best left submerged, in
Rust-sullied pools of love-sick sludge.
And so, having invested a lifetime
Failing to roll out economical ingots
Of that silvery stuff, light as it's strong,
I size up with one last, cold calculation
My cage amongst the stunted shrubs;
In this, our post-industrial playground
– Mine-pocked, scrubbed-out by bilious juice,
Where the air's forever fluorine-fouled
– And where, ensnared with you and your flue-gas,
I'm – entropically – X'ed…
[Creative Futures Literary Awards Competition 2018: Reached the shortlist of 18 out of 500 entries]
---
When I was a child, fresh on the vine
I wanted to grow into a fine fecund man so
my father would tend me, nourish me.
He claimed to be a keen gardener,
always grafting away in his secret shed with
his booze and his floozies, needing something
other than his roses to prick on, when
he wasn't picking his huge hairy honk.
I was a queer fruit, a mutant, rather
like dad's favourite flower,
the purple pansy: it must have been, as that's
what he always punchily called me,
a man's man's way of
showing love through violence to
a shrinking violet.
No talking bollocks about footie or cars
could make my manhood sprout.
Like a true hoary-handed son of
exchanged-labour toil
he used to express his deepest feelings by
threshing the life out of me when he got back
from a hard day's drinking and tab-toting
with my older, prodigal brother,
who shagged birds, sowing
his sterile seeds all over
the red-painted town.
Biology's clock doesn't stop, though.
Now the old man's storm-birds have come
home to roost, fouling his lung loft
with nicotine filth. The cancer, they say,
keeps on generating, proliferating; slowly, silently –
his whole body a chemical temple
to manly excess. Sooner or later.
I suppose, he'll be pushing up daisies: it must
be something to do with his green fingers,
and all the crap he's sprouted over the years.
But out of this fertile muck I've grown brassy.
Harsh cutting back has made me strong, and
this weed has taken over the garden now.
So, for myself I flourish: a hybrid breed,
self-spawned – In the unlikeliest places
flowering – and
fucking.
[12th Welsh Poetry Competition (International English Language Poetry Contest) 2018
"Special mention" from the judge Sally Spedding]
---