---
Dear Friends of the Training Centre! It's me myself talking here this time. by the way, Dr David Balrog Procter, not my favourite lovely former-trainee Helen Grossmann who's sharing her time between helping us here, organising other crucial projects in Hellsgate, and having a well-deserved rest. After all, she does have a lot on her hands what with her stupendous new Baby, coping as a single parent, and finishing the thesis for her doctorate entitled, 'Developing and Accepting Multiple Voices: A journey from madness to sanity' at the newly-founded College named the United Independent Educational Institutions of Aberdydd and the Region. I'd like to make a comment or two to start before going on to bring this tale to an end. Here we are, then.
I love words so much! From the very beginning, I have believed that using language skilfully, speaking, and telling, and listening, is an almost magical way to communicate with the human mind and cause change. Handy servants indeed are words, which can make a man gain confidence, behave bravely, and fall in love, although the spoken word is blown away on the breeze in the moment it is born. But I always remember that like water and fire, words can be accursed masters too, when they cause one to lose one's temper, commit atrocities, or break one's heart. Perhaps we should all study and learn in order to become experts who can wield the magic of words most effectively. I recall here Tefnuth reviving Lushfé with the Sunsong, Nó'ohl's birds stealing secrets, Krondí conversing with her magic mirror, the wonderful forest beasts helping Sikhát, and Shaman-no destroying Thebe with the Seven Deadly Words. But, having said that, I think it's obvious that a lot of the sounds animals produce don't communicate in the normal sense that they contain information. Part of them bears content, but a great deal of what they twitter, roar, low, whinny, hiss, or squeak, doesn't say much at all, it's just playing with sound. And as for the damned beetles that chatter incessantly, who in the Two Worlds knows what they mean?
As a mentalist, and especially as a Wizard (although we are tending to down-play that rather outdated title now, in public at least), I'm very conscious of this. I suffer so much as a result of my calling. So many people are very judgemental of what I say (let alone of how I act). They claim that I pretend to sound sensible and wise,  but that I make no sense at all, and just spout nonsense. They accuse me of beguiling and tricking a poor, bewildered audience into believing I'm conveying crucial information, when I am really just taking advantage and fleecing them. Let me be charitable (as always, to start with at least!): maybe they don't understand my methods, through lack of training or native wit. But then again, let's assume that that their assessment is completely correct. One nevertheless has to admit that as a result of much education and practice I readily succeed in making noises that attract large numbers of people to listen.
And then, when I'm playing with ideas as if I were making enchanting music, prancing like a contented llama, or conducting a brass band, those entranced listeners are delighted to wait, and hear, and absorb the words. And after the performance they all insist they have enjoyed the experience, that it was like losing themselves whilst watching birds flying, or staring in terror to a storm at sea, or feasting their eyes on a majestic mountain range. So, I shall carry on dancing, and singing, and weaving my magic, in the hope that you continue to enjoy, and transform all the time as a consequence. After all, "The proof of the pudding's in the eating," so they say, and I always succeed in achieving my results, one way or another!
The truth of the matter is this: we know hardly anything for certainty about the character called 'Daud Pekar,' nor about the details of his life in the Heart of the Continent – if he was ever there at all, rather than in the Monotonous Ice-Fields, the Great, Red Desert, or the Land of the Thousand and One Islands, for example. However, although it is I who am to blame for most of the events reported here – that is, it is I who arranged for them to happen – I must also acknowledge some others in passing, about whom additional information has come to light recently, due to the unusual events here in the former Clinic, which is now the World-Wide Training Centre for Alternative Youth. Or perhaps I should say that I am at liberty to share these further details with you, now that – matters – here and in the World at large, have gone so far and developed so well.
I need to mention, therefore, the three tricksters, that strange trinity – the Clinic's Founder (Jack Procter), the Generous Benefactor (Andrea Jakob Großmann), and the Strong Little Devil (Ivan Pekar, Daud's Father – and Steffan's Father too, as it happens). It would be fair to say that there was a complex relationship between them, dating back to the period of the Great Tribulation. They took part in the fighting to some extent, it's likely – but were they heroes, agents provocateurs, guerrillas, spies, or cowards? Or all of these? Only the Cruel Divinities know for certain. I would prefer to think that they were bold and enterprising men – wily and uncompromising businessmen, perhaps – who were in the right place at the right time – although I would not go so far as to say that they were unprincipled smugglers, and certainly not international terrorists. (Terrible local hoodlums, maybe). Jack was scouting for children with exceptional abilities, in line with the Clinic's needs, but also to fulfil his own ends. Ivan was trying to feather his own nest, and to the Bottomless Pit with everyone else. And Andrea, in his twilight years, revelled in playing the part of bandit-chief. 
It is not obvious who did what in respect of establishing, maintaining, and fostering their network, but between the three of them, they succeeded in immersing themselves completely in the murkiest pools of the Black Arts and Sciences. And all of that without me, the arch-puppet-master, knowing, even. Well, I am not a mind-reader, or a fortune-teller, or a clairvoyant, despite what some wags say! Now, safeguarding their own interests is one thing, but like the Black Doctor and his medium the Honourable Talbot Silver-Tongue, the men started to indulge in other practices which would lead to indecent and immoral behaviour in the end. Suffice it to say that their convictions concerning brotherly – and sisterly – love, especially in a ritual context, were extremely outré. Only comparatively recently have I realised that Großmann Senior was the missing link as it were, and that as a result of work by my Young Trainee translating "De Invocationibus Enoch," and going through transcripts of spirit conversations between his Father and his Grand-father. It was Andrea who persuaded the other two they could invoke the Old Masters (Telok-vovim was his name for them). And they thought that they would learn every secret in the Two Worlds, getting hold of extra-terrestrial wisdom, the philosophers' stone, and the key to eternal life – and becoming extremely well-off.
Well, look where they are now. Ivan died at the hand of a jealous concubine (although a terrorist attack got the blame for this in the official reports). Jack died very slowly and painfully, screaming spells, after coming back to life, as it were. Andrea Jakob Großmann (Andras Iago Grossmann by then) died in his bed, a very wealthy man at least. And now his own Son, the Honourable John Balrog Grossmann, although he is fundamentally a cad and a bounder (no surprise there), is governing the International Technocratic Council. But he hasn't forgotten his connection to the Clinic, or rather, to the Training Centre, either, and of course, we gave a haven to his amazing but petulant Daughter, Helen, when she needed it most. As I have already mentioned, her constant, sweeping interventions create new and exciting challenges for us every day. To be honest, we're grateful now that she forced us to plant the extremely spicy beans throughout the estate, because the entire World loves them. So, by farming them scientifically, we're making an enormous profit. And their – medicinal – properties – with respect to opening mental doors to Other Worlds, as it were (especially when they've been burned to a crisp), are very useful too. And her son, although extremely dangerous without appropriate containment, will, I hope, be a great asset to us here, and to the World. 
Furthermore, I must not forget my sister here, Miss Procter (Mrs Grossmann after she married), the tremendous woman who runs operations here from day to day. Indeed, she can appear like a ministering angel on occasions, to some people, but like some terrifying otherworldly creature – that 'xenomorph' from the horror films – to others, on other occasions. Despite that, she's done miracles with the old place here! And she's an expert in raising money, how exactly I don't know! Between her and JBG, it was possible for the Clinic to raise from the flames like a phoenix in its new form very quickly. Would you have imagined that she (Mrs G) had an affair with Ivan Pekar (who was using the nom-de-guerre John Baxter at that time), somehow, and that that's how Steffan came into the World? Then again, Mrs Procter, Jack's wife, ran off with Mr Grossmann, giving birth to Helen in the Heart of the Continent in due course. For convenience, I have included a Family Tree showing the relationships between the three tribes, namely the Baxters, the Procters, and the Grossmann Family, below.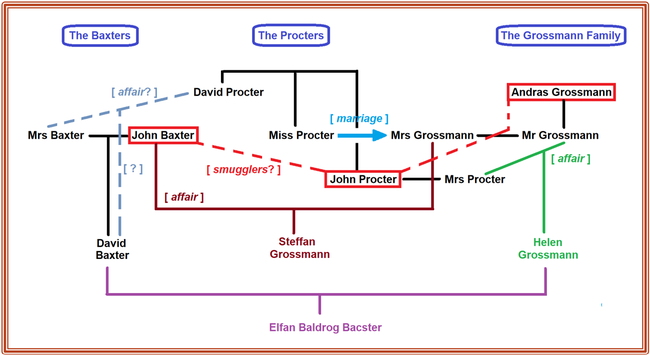 Who was Daud, David, Dai in truth? From where did he come, and what fashioned his personality, steered his development, and drove his behaviour? Well, you have read all the information, reported straight from the horse's mouth. You know as well as I. How great is the cruelty of humankind? That I cannot calculate. But then again it is likely that a considerable number of the events reported here are nothing but delusions in the mind of a totally unknown lad who would behave more like a silly, confused urchin than a confident and gifted young man, most of the time. But which ones? Despite his myriad failings, David was very intelligent and an excellent story-teller. At least we can say without a shadow of a doubt that the lad was brought here by my brother Jack Procter in unfathomable circumstances, after he had suffered terribly until he became a shadow of a human being, more's the pity. 
In the Clinic, in that mansion which was falling apart at the seams for the most part, David tried to re-build the fragments of his personality, through role-play with some of the other residents, under the influence of pioneering drugs. In truth, the lad did not know who they were exactly at the start of course, because he was so confused. However, he formed strong relationships with Steffan ('Stevie' – Mrs G's love-child, who had experienced considerable problems whilst studying, and who became a good friend to David. Often, they would go for a jaunt in the Clinic's white van together, like Knights Templar in shining armour), Helen ('Elen' – The illegitimate daughter of Mrs Procter, and a trainee mentalist. David would constantly pester her with his conspiracy theories), John or Jack ('the Old Soldier' – former schoolmaster at death's door, who'd done his bit during the Great Tribulation, who was a confidant to the lad, and who succeeded to teach him the Old Hidden Language), Mrs Grossmann ('the Lady Macbeth' – chief manageress of the Institution, household goddess, and foster-mother to all the lost souls), and me ('the Young Wizard' – that's an entertaining name for a man as sensible and level-headed as me). Having said that, most of the time, David would think that we were completely different people.
We were like a family, in a way – from the 'Mabinogi' – perhaps – Father, Mother, Brother, Sister, and Grand-father. We even have a dog called 'Swtach,' a short-haired hound from the Faithful Western Principality. I must say that this word does not mean "a thing that's sootier than coal," and the dependable but stupid old creature has white fur and red ears quite like one of Hell Hounds in the Old Tales. Rather, the name refers to a divinity of chaos, destruction, and creativity from the Great Red Desert, and with every reason to be perfectly honest, as the stinky animal spreads havoc in his wake wherever he goes. And then, everyone has to be extremely creative trying to tidy things up. David wasn't keen on Swt, either, as the dog would gobble up his pet beetles all the time – the old devil! 
But – contrary to the expected outcome, and very unfortunately – this treatment caused David to slacken his grip on reality and behave often in ways which would be considered socially unacceptable, by those with a strait-laced disposition, anyway, who are too staid and unfeeling. He could not stop himself visiting the Hall of the Images in Aberdydd, for example, in order to meditate on life's tribulations on the one hand, and its joy, on the other. And there, in that 'magical' locus, he would chant, and rock back and forth, imagining he was communicating with 'extra-terrestrials,' apparently. But at least he would wait till everyone else left to begin his devotions. It was whilst undertaking rather dubious activities of this kind that he devised his plan for transforming the World and overcoming the 'oppressive forces of normal society' which led in the end to his getting into trouble with the law, and having a serious accident in the white van. And once, on another occasion, he broke into my office (Room 1/7 in the Hall of the Murals – the 'Agonizing Hive' was his scornful name for it) with his 'usual tools' in order to perform a sacred ceremony. Ooh, what a mess he made, and how topsy-turvy was everything after his unexpected and uninvited visit! Perhaps he considered that he was the Indolent Idolaters' Chosen One, more than likely, the one who possessed the power to slink between the Two Worlds. If only he could have done things correctly, he could still be here, probably!
To cut a long story short, Daud Pekar, that is David Baxter, departed this existence (as far as we know), on the cusp of the Millennium more or less – he was never one for keeping good time. In his view, he possessed a charmed life, or seven lives to be completely correct. He further believed that through his magical practices (I have discussed these before) he had lost two lives trying to call his Mother back from the grave, and then escaping from his iniquitous Uncle; two others, saving Stjepan Velikičovjek from his persecutors, and striving to prevent Jelena Pekar (his Sister) from departing; two more, surviving the murder of his Father, and the van accident here in Aberdydd. It could be said, therefore, that he gave his last life to Stevie and Jack whilst rescuing them from a fire in the old blue cottage in the Clinic's grounds (but see the further comments below). How could he have snatched two lives from the jaws of death at the price of only one, I hear you ask? Well, of course, the Old Solider was on the brink of death anyway; and on top of that, the value of Steffan's life is still be accounted for. He'll be an exceptionally good Uncle to the new baby in due course, hopefully, despite all the horrors committed by the men in this sad story thus far. 
Ironically, the pines depend on fire to stay alive, as high temperature releases seed from the cones. And like them, we continue to exist, but transformed. "If one man dies, then all survive," said Daud, that is David – well, there we are – but, at what cost? Of course, his love-child with Helen – that chunk of flesh – the nun's misfortune, indeed – survives still. He's a very strong soul – in the name of the Old Strange Divinities, he's an entity stronger than any that's existed on the face of this contemptible Planet before now. There shall be an exceptionally important life before him, without a doubt, and that was my intention from the very outset. 
Daud Pekar, David Baxter, was indeed one of the Great Tribulation's casualties, in a manner of speaking. And as you will guess, I believe that ways of speaking create the consensual World that we all share. However, despite my desire to declare that David died a hero, the two other men who were with him when he departed would say different. Indeed. Stevie and Jack would go on their oath that David – peace to his ashes (as it were!) – fled from the conflagration, without trying to save them at all. Stevie alleges in private that it is he who dragged the Uncle and the Comrade to safety. Jack said that he did not know for certain what had happened, but that he was sure that Stevie helped him, while David was trying to kill him.
What were the true circumstances pertaining to that night, and what happened to David? No-one will ever know for definite. But we have done our very best to honour the Unfortunate Hero. And so, in the shadow of a pine David sleeps peacefully now – well, once again in a manner of speaking as we never came upon his body in the ruins of the cottage. There was, nevertheless, a huge lump of fired clay in the form of a man or an ape there, and that's what's filling the grave now. Then again, that devilish Swt cannot stop going to visit the spirit of his old arch-enemy. The mischievous beast keeps on scratching at the gravestone all the time, and doing whatever animals do to mark their territory, as if he does not want the poor lad to rest in peace. 
This was David's entire story in his own words, then, as far as we know – but, I reiterate: Which parts are correct? Could it be that most it is nought but the fancy of some young rascal who was horrendously mistreated, and went off the rails? Dare we judge, and if so, who will judge the judges? But then again, here am I, the former Youngest Wizard (almost), having arranged all the details behind the scenes in order to create this whole situation. And I have done this with the unwilling aid of the Old Soldier, my unsuspecting older brother (well, he was in the dark regarding my true plan to transform Humanity, anyway), who was more like a Father to me. My three names should be noted here, too as evidence of my complex and essential role in this tale. 
There's David, Dai, the same thing as our main character; Balrog, which is connected with the Grossmann family, full of great men; and Procter, that is 'Guardian,' which derived from our forefathers at the time of Sorakados' Great Journey. Despite everything, Jack was a brave soldier, basically, and an intelligent man, too, who wanted to solve problems by going at it with all the strength of his mind, spirit, and body. Who would have known he would cling to Earthly life so long and with such might, so viciously, whilst believing at the same time in that which is to come? And perhaps I am not what you would imagine or expect, either, although the time is not right to speak of such things now. After my – our – period of mourning is over, there will still remain the Great Work to be done.
To close this chapter, then, for the time being at least, forgive me for playing the part of the Preacher as I say the following words. Farewell – Daud, David, Dai, Dá∙hwyth – that lad who had so many different names! Adieu (as it were)! May the Innumerable Indolent Idolaters (and they are all the most powerful Wizards in the Two Worlds, too), guard you from the predations of the Seven Seraphic Sorcerers, wherever you may be. May they allow you – and us all – to win salvation, whatever that may be, as we pray — "From out of the shadows, may illumination stream forth!" — D.B.P.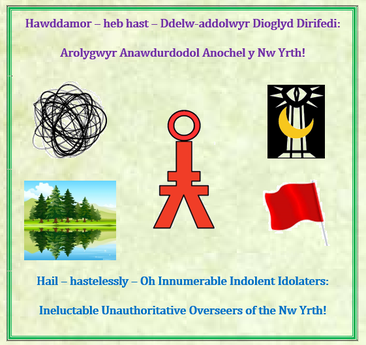 ---
---
Annwyl Ffrindiau'r Ganolfan Hyfforddi! Fi fy hun sy'n sôn yma'r tro hwn, gyda llaw, Dr David Balrog Procter, nid fy hoff gyn-brentis hyfryd Helen Grossmann sydd yn rhannu'i hamser rhwng ein helpu ni yma, trefnu prosiectau hanfodol eraill ym Mhyrth-y-Fall, a chael seibiant haeddiannol. Wedi'r cwbl mae yna lond côl ganddi rhwng gofalu am ei Baban newydd, aruthrol, ymdopi fel rhiant sengl, a gorffen y thesis ar gyfer ei doethuriaeth, 'Datblygu a Derbyn Amryfal Leisiau: Taith o wallgofrwydd i bwyll' yn y Coleg newydd ei gychwyn o'r enw Sefydliadau Addysgol Annibynnol Unedig Aberdydd a'r Cylch. Byddwn i'n hoffi gwneud sylw neu ddau i ddechrau cyn mynd yn fy mlaen i ddod â'r hanes hwn i ben. Dyma ni, 'te.
Rwy'n caru geiriau cymaint! O'r cychwyn cyntaf, rwy wedi coelio mai defnyddio iaith yn fedrus, wrth siarad, a dweud, a gwrando, yw ffordd bron yn hudol i gyfathrebu â'r meddwl dynol ac achosi newid. Gweision hwylus yn wir ydy geiriau, all wneud i ddyn fagu hyder, ymddwyn yn ddewr, a syrthio mewn cariad, er bod y gair llafar yn cael ei chwythu ymaith ar yr awel y foment y genir ef. Ond rwy'n cofio bob tro mai'n debyg i ddŵr a thân y gall geiriau fod yn feistri melltigedig hefyd, pan fyddan nhw beri i ddyn golli'i dymer, cyflawni erchyllterau, neu dorri'i galon. Efallai y dylem ni i gyd astudio a dysgu er mwyn dod yn arbenigwyr sydd yn medru trin hud geiriau fwyaf effeithiol. Dw i'n dwyn i gof yma Tefnuth yn atgyfodi Lushfé gyda Chân yr Haul, adar Nó'ohl yn dwyn cyfrinachau, Krondí yn sgwrsio â'i drych hud, bwystfilod rhyfeddol y goedwig yn helpu Sikhát, a Shaman-no yn distrywio Thebe gyda'r Saith Air Angheuol. Ond, wedi dweud hynny, rwy'n credu'i bod yn amlwg, nad yw llawer o'r seiniau mae anifeiliaid yn eu cynhyrchu'n cyfathrebu yn yr ystyr cyffredin eu bod yn cynnwys gwybodaeth. Mae rhan ohonyn nhw'n dwyn hysbysrwydd, ond dyw llawer iawn o'r hyn maen nhw'n drydar, rhuo, brefu, gweryru, hisian, neu wichian yn dweud fawr o ddim, dim ond chwarae gyda sain ydy. Ac o ran y chwilod uffernol sy'n sgrytian yn ddi-stop drwy'r amser, pwy yn y Ddau Fyd a ŵyr beth maen nhw'n olygu? 
Fel meddyliaethydd, ac yn enwedig fel Dewin (er ein bod ni'n tueddu i osgoi'r enw eithaf hen-ffasiwn bellach, ar goedd o leiaf), dw i'n ymwybodol iawn o hyn. Rwy'n dioddef cymaint oherwydd fy ngalwedigaeth. Mae cynifer o bobl yn feirniadol iawn o'r hyn dw i'n ddweud (heb sôn am sut dw i'n ymddwyn). Maen nhw'n honni fy mod i'n esgus swnio'n synhwyrol a chall, ond nad ydw i'n gwneud y mymryn lleia' o synnwyr o gwbl, ac mai dim ond parablu lol dw i. Maen nhw'n fy nghyhuddo i o swyno a thwyllo cynulleidfa druain wedi mwydro, nes iddynt feddwl fy mod i'n cyfleu gwybodaeth hollbwysig, tra wyf fi'n achub mantais arnynt a'u blingo mewn gwirionedd. Gadewch imi fod yn garedig (fel arfer, ar y dechrau, o leiaf!): efallai nad ydynt yn deall fy nulliau, drwy ddiffyg hyfforddi neu fedr cynhenid. Ond eto i gyd, a bwrw bod eu hasesiad yn hollol gywir. Serch hynny, rhaid i ddyn gyfaddef mai o ganlyniad i lawer o addysg ac ymarfer, fe fyddaf fi'n llwyddo'n rhwydd i gadw sŵn sy'n denu niferoedd mawr o bobl i wrando.
Ac wedyn pan fyddaf yn chwarae gyda syniadau fel petaswn i'n canu cerddoriaeth hudol, prancio fel lama bodlon, neu arwain seindorf bres, fe fydd y gwrandawyr mynd i berlewyg yn falch o aros, a chlywed, ac amsugno'r geiriau. Ac ar ôl y perfformiad fe fyddant i gyd yn taeru iddynt fwynhau'r profiad, ei fod yn debyg i'w colli'u hunain wrth wylio adar yn hedfan, neu rythu mewn braw ar storom ar y môr, neu foddio'u llygaid ar gadwyn o fynyddoedd mawreddog. Felly fe fyddaf fi'n dal i ddawnsio, a chanu, a gwau fy hud, gan obeithio y byddwch chi'n parhau i fwynhau, a thrawsnewid drwy'r amser o'r herwydd. Wedi'r cwbl, "Wrth ei flas mae profi pwdin," meddan nhw, ac rwy wastad yn llwyddo i fynd â'r maen i'r wal, rywsut neu'i gilydd!
Y gwir am y sefyllfa yw hyn: nid ydym yn gwybod bron dim byd i sicrwydd am y cymeriad o'r enw 'Daud Pekar,' nac am fanylion ei fywyd yng Nghalon y Cyfandir – os oedd e yno erioed o gwbl, yn hytrach nag yn y Meysydd Iâ Undonog, yr Anialdir Mawr, Coch, neu Wlad y Mil Ynysoedd ac Un, er enghraifft. Fodd bynnag, er mai fi sydd ar fai am y rhan fwyaf o'r digwyddiadau a adroddwyd yma – hynny yw, fi a drefnodd iddyn nhw ddigwydd – rhaid i fi gydnabod hefyd rai eraill wrth fynd heibio, y mae gwybodaeth ychwanegol wedi dod i'r fei amdanyn nhw yn ddiweddar, oherwydd y digwyddiadau anarferol yma yn yr hen Glinig, sydd bellach y Ganolfan Hyfforddi Fyd-Eang i Ieuenctid Amgen. Neu hwyrach y dylwn i ddweud fy mod i'n cael rhannu'r manylion pellach hyn â chi, nawr bod – materion – yma ac yn y Byd yn gyffredinol, wedi mynd cyn belled a datblygu cystal.
Mae arnaf fi angen crybwyll felly, y tri chastiwr, y drindod ryfedd hon – Sefydlwr y Clinig (Jack Procter), y Cymwynaswr Hael (Andrea Jakob Großmann), a'r Ellyllyn Cryf (Ivan Pekar, Tad Daud – a Thad Steffan hefyd, fel mae'n digwydd). Teg fyddai dweud bod perthynas cymhleth iawn rhyngddyn nhw, yn dyddio'n ôl i adeg y Cythrwfl Mawr. Cymeren nhw ran yn y brwydro i ryw raddau, mae'n debyg – ond a oedden nhw'n arwyr, cudd-gynhyrfwyr, hurfilwyr, ysbiwyr, neu gachgwn? Neu bob un o'r rhain? Dim ond y Duwdodau Creulon a ŵyr yn iawn. Byddai'n well gennyf fi feddwl eu bod yn wŷr hyf a mentrus – dynion busnes cyfrwys a digymrodedd, efallai – oedd yn y lle iawn ar yr adeg iawn – er na awn i cyn belled â dweud mai smyglwyr diegwyddor oedden nhw, ac yn wir nid terfysgwyr rhyngwladol. (Adynod lleol ysgethrin, ddichon). Roedd Jack yn chwilio am blant â galluoedd eithriadol yn unol ag anghenion y Clinig, ond hefyd i gyflawni'i ddibenion ei hunan. Ivan oedd yn ceisio pluo'i nyth ei hun ac i'r Pwll Diwaelod â phawb arall. Ac roedd Andrea, yn hwyrddydd ei oes, yn ymhyfrydu'n chwarae rhan pennaeth y gwylliaid.
A hynny oll heb yn wybod i fi, yr arch-bypedfeistr hyd yn oed. Wel, nid darllenwr meddyliau, na dyn dweud ffortiwn, na chlirweledwr, mohonof fi, er gwaethaf yr hyn y mae rhai cellweirwyr yn ei ddweud. Nawr, gwarchod eu buddiannau'u hunain yw un peth, ond fel y Doethur Du a'i gyfryngwr yr Anrhydeddus Talbot â'r Tafod Arian, fe ddechreuodd y dynion ymbleseru mewn arferiadau eraill a fyddai'n arwain at ymddygiad anweddus ac anfoesol yn y pen draw. Digon dweud mai rhyfedd y tu hwnt oedd eu hargyhoeddiadau ynghylch cariad brawdol – a chwaerol – yn enwedig mewn cyd-destun defodol. Dim ond yn gymharol ddiweddar rwy wedi sylweddoli mai Großmann yr Hynaf oedd y ddolen goll fel petai, a hynny o ganlyniad i waith gan fy Hyfforddai Ifanc wrth gyfieithu "De Invocationibus Enoch," a mynd trwy adysgrifau o sgyrsiau ysbryd rhwng ei Dad a'i Dad-cu. Andrea a ddarbwyllodd y ddau eraill y gallen galw ar yr Hen Feistri (Telok-vovim oedd ei enw arnyn nhw). Ac wedyn – greden nhw – fe fydden nhw'n dysgu pob cyfrinach yn y Ddau Fyd, gan gael hyd i ddoethineb arallfydol, yr eurfaen, a'r allwedd i fywyd tragwyddol – a dod yn graig o arian.
Wel, edrychwch ble maen nhw nawr. Bu farw Ivan ar law gordderch genfigennus (er i ymosodiad gan frawychwyr gael y bai am hyn yn yr adroddiadau swyddogol). Bu farw Jack yn araf a phoenus iawn wrth floeddio swynion, ar ôl codi o farw'n fyw, fel petai. Bu farw Andrea Jakob Großmann (Andras Iago Grossmann erbyn hynny) yn ei wely, yn ddyn cyfoethog iawn o leiaf. A bellach ei Fab yntau, yr Anrhydeddus John Balrog Grossmann, er mai cnaf a dihiryn yw e yn y bôn (dim syndod yno), sy'n rheoli'r Cyngor Technocratig Rhyngwladol. Ond dyw e ddim wedi anghofio'i gysylltiad â'r Clinig, neu yn hytrach, â'r Ganolfan Hyfforddi, ychwaith, ac wrth gwrs, fe roddon ni loches i'w Ferch ryfeddol ond anniddig, Helen, pan oedd arni hi'i hangen mwyaf. Fel rwy wedi crybwyll o'r blaen, mae'i hymyriadau ysgubol, cyson yn creu heriau newydd a chyffrous inni bob dydd. A bod yn onest, rydym ni'n ddiolchgar bellach iddi'n gorfodi ni i blannu'r ffa sbeislyd dros ben drwy'r 'stad i gyd, gan fod y Byd a'r Betws yn dwlu arnyn nhw. Felly, trwy eu ffermio nhw'n wyddonol, rydym yn gwneud elw enfawr. Ac mae'u nodweddion – llesol – o ran agor drysau meddyliol i Fydoedd Eraill, fel petai (yn enwedig pan fyddan nhw wedi'u llosgi'n ulw), yn ddefnyddiol iawn hefyd. Ac fe fydd ei Mab, er ei fod yn dra pheryglus os na chaiff ei reoli'n briodol, yn ased gwerthfawr inni yma, ac i'r Byd, gobeithio.
Ymhellach, mae'n rhaid imi beidio ag anghofio fy chwaer yma, Miss Procter (Mrs Grossmann ar ôl iddi briodi), y fenyw aruthrol sy'n rhedeg gweithrediadau yma o ddydd i ddydd. Yn wir mae hi'n gallu ymddangos fel angyles gymwynasgar ar adegau, i rai pobl, ond fel rhyw greadures arallfydol, ddychrynllyd – y 'sénomorff' honno o'r ffilmiau arswyd – i bobl eraill, droeon eraill. Serch hynny, mae wedi gwneud gwyrthiau gyda'r hen le yma! Ac arbenigwr mewn codi arian ydy, sut yn enwedig, 'dwn i'm! Rhwng hithau a JBG, roedd yn bosibl i'r Clinig godi o'r fflamau fel ffenics ar ei ffurf newydd yn fuan iawn. A fyddech chi'n dychmygu iddi hithau (Mrs G) gael affêr gydag Ivan Pekar (oedd yn defnyddio'r ffugenw John Baxter y pryd hynny), rywsut neu'i gilydd, ac mai dyna sut daeth Steffan i mewn i'r Byd? Eto i gyd, fe redodd Mrs Procter, gwraig i Jack, i ffwrdd gyda Mr Grossmann, gan esgor ar Helen yng Nghalon y Cyfandir maes o law. Er hwylustod, rwy wedi cynnwys Siart Achau'n dangos y perthnasau rhwng y tri llwyth, sef y Baxteriaid, y Procteriaid, a'r Teulu Grossmann, isod.
Pwy oedd Daud, David, Dai mewn gwirionedd? O ble daeth e, a beth luniai'i bersonoliaeth, wrth lywio'i dyfiant, a gyrru'i ymddygiad? Wel, rydych wedi darllen y wybodaeth oll, wedi'i adrodd gan lygad y ffynnon. Chi a ŵyr cystal â fi. Cymaint creulondeb dynolryw? Dyna nad allaf fi'i gyfrif. Ond eto i gyd mae'n debyg mai dim ond rhithdybiau ym meddwl llanc hollol adnabyddus a fyddai'n ymddwyn yn fwy tebyg i grwt dryslyd gwirion y rhan fwyaf o'r amser nag i laslanc hyderus a pheniog, yw cryn dipyn o'r digwyddiadau a adroddwyd yma. Ond pa rai? Er ei ddiffygion fyrdd, roedd David yn ddeallus iawn ac yn storïwr ardderchog. O leiaf fe allwn ni ddweud heb rithyn o amheuaeth y daethpwyd â'r llanc yma gan fy mrawd Jack Procter mewn amgylchiadau anesboniadwy, wedi iddo yntau ddioddef yn erchyll nes mynd yn gysgod o fod dynol, gwaetha'r modd.
Yn y Clinig, yn y plasty hwnnw oedd wedi mynd â'i ben iddo y pryd hynny gan mwyaf, fe geisiai David ailgodi cyrbibion ei bersonoliaeth, trwy chwarae rôl gyda rhai o'r preswylwyr eraill, dan ddylanwad cyffuriau arloesol. Mewn gwirionedd, ni wyddai'r llanc pwy oedden nhw yn union ar y dechrau, wrth gwrs, am ei fod wedi drysu cymaint. Fodd bynnag, ffurfiai berthnasau cryfion gyda Steffan ('Stevie' – plentyn siawns i Mrs G, oedd wedi profi cryn broblemau wrth astudio, ac a ddaeth yn gyfaill da i David. Yn aml yr arferen nhw fynd am dro yn fan wen y Clinig gyda'i gilydd, fel Marchogion y Deml ar farch gwyn), Helen ('Elen' – plentyn siawns i Mrs Procter, a meddyliaethydd dan hyfforddiant. Fe fyddai David yn ei mwydro hi'n gyson â'i theorïau cynllwyn), John neu Jack ('yr Hen Filwr' – cyn-ysgolfeistr ar fin marw, oedd wedi gwneud ei ran yn ystod y Cythrwfl Mawr, oedd yn gyfrinachwr i'r llanc, ac a lwyddodd i ddysgu'r Hen Iaith Gêl iddo), Mrs Grossmann ('yr Arglwyddes Macbeth' – prif reolwraig y Sefydliad, duwies yr aelwyd a'r cartref, a mamfaeth i'r holl eneidiau colledig), a fi ('y Dewin Ifanc' – dyna enw digrif ar ddyn mor synhwyrol a chall â fi). Wedi dweud hynny, y rhan fwyaf o'r amser, fe fyddai David yn tybio mai personau hollol wahanol oeddem ninnau.
Yr oeddem fel teulu, ryw ffordd – o'r 'Mabinogi,' ysgatfydd – Tad, Mam, Brodyr, Chwaer, a Thad-cu. Mae gennym hyd yn oed gi o'r enw 'Swtach,' helgi o'r Dywysogaeth Orllewinol Deyrngar â gwallt cwta. Mae rhaid i fi ddweud na olyga'r gair hwn 'peth sy'n fwy huddyglyd na glo,' ac mae gan yr hen greadur dibynadwy ond twp flew gwyn a chlustiau rhudd yn eithaf tebyg i un o Gŵn Annwfn yn yr Hen Chwedlau. Yn hytrach, mae'r enw'n cyfeirio at dduwdod anrhefn, dinistr, a chreadigaeth o'r Anialdir Mawr, Coch, ac â phob rheswm a bod yn berffaith onest, gan fod yr anifail drewllyd yn taenu difrod yn ei sgil ble bynnag yr aiff. Ac wedyn mae'n rhaid i bawb fod yn dra chreadigol wrth geisio rhoi trefn ar bethau. 'Doedd dda gan David 'mo Swt, 'chwaith, am mai'r ci a draflyncai'i chwilod anwes bob amser – yr hen gythraul!
Ond – yn groes i'r canlyniad disgwyliedig, ac yn anffodus iawn – fe achosai'r driniaeth hon i David lacio ei afael ar realiti ac ymddwyn yn aml mewn ffyrdd a ystyrid yn gymdeithasol annerbyniol, gan rai gorfanwl, beth bynnag, sydd yn rhy sobr a dideimlad. Ni allai beidio ag ymweld â Neuadd y Delweddau yn Aberdydd, er enghraifft, er mwyn myfyrio uwchben trallodau bywyd ar y naill law, a'i londer, ar y llaw arall. Ac yno, yn y fangre 'hudol' honno, fe fyddai'n siantio, a siglo ymlaen ac yn ôl, gan ddychmygu ei fod yn cyfathrebu â 'bodau arallfydol,' yn ôl pob sôn. Ond o leiaf fe fyddai'n aros nes i bawb arall adael i ddechrau ar ei ddefosiwn. Wrth ymgymryd â gweithgareddau gweddol amheus o'r fath y dyfeisiodd ei gynllun ar gyfer trawsffurfio'r Byd a threchu 'grymoedd gormesol cymdeithas gyffredin' a arweiniodd yn y pen draw iddo fynd i helynt gyda'r gyfraith, a chael damwain difrifol yn y fan wen. Ac unwaith, dro arall, fe dorrodd i mewn i'm swyddfa (Ystafell 1/7 yn Neuadd y Murluniau – y 'Cwch Dirboenus' oedd ei enw dirmygus arni) gyda'i 'arfau arferol' er mwyn perfformio seremoni gysegredig. Ww, dyna gawlach a wnaeth e, ac am siang-di-fang oedd popeth ar ôl ei ymweliad annisgwyl a diwahoddiad! Efallai ei fod yn ystyried mai Etholedig y Delw-addolwyr Dioglyd oedd e, mwy na thebyg, yr un oedd biau'r grym i sleifio rhwng y Ddau Fyd. Oni bai y gallai fod wedi gwneud pethau'n gywir, fe allai fod yma o hyd, siŵr o fod!
A thorri'r stori'n fyr, fe ymadawodd Daud Pekar, hynny yw David Baxter, â'r fuchedd hon (am y gwyddom ni), yn 21 oed ar gwsb y Milflwyddiant mwy neu lai – 'doedd e byth yn un am wylio'r amser. Yn ei dyb, roedd e'n perthyn ar fywyd swynol, neu saith bywyd a bod yn fanwl gywir. Fe gredai ymhellach mai trwy ei arferion hudol (rwy wedi trafod y rhain o'r blaen) yr oedd wedi colli dau fywyd wrth geisio galw ei Fam yn ôl o'r bedd, ac wedyn wrth ddianc o'i Ewythr anfad; dau eraill, wrth achub Stjepan Velikičovjek rhag ei erlidwyr, ac ymdrechu i rwystro Jelena Pekar (ei Chwaer) rhag ymadael; dau mwy, wrth oroesi llofrudd ei Dad a'r ddamwain fan yma yn Aberdydd. Fe ellid dweud, felly, iddo fe roddi'i fywyd olaf i Stevie a Jack wrth eu hachub rhag tân yn yr hen fwthyn glas yn nhiroedd y Clinig (ond gweler y sylwadau pellach isod). Sut y gallai fod wedi dwyn dau fywyd o safnau angau, ar bris dim ond un, rwy'n eich clywed chi'n ofyn? Wel, wrth reswm, yr oedd yr Hen Filwr ar fin marw beth bynnag; ac ar ben hynny, mae gwerth bywyd Steffan yn dal i'w gyfrif. Fe fydd yn Ewythr eithriadol o dda i'r babi newydd maes o law, gobeithio, er yr holl erchyllterau a gyflawnwyd gan y dynion yn y stori drist hon hyd yn hyn.
Yn eironig, dibynna'r pinwydd ar dân er mwyn parhau'n fyw, gan fod tymhered uchel yn rhyddhau had o'r pigyrnau. Ac yn debyg iddyn nhw, rydym ni'n dal i fodoli, ond wedi'n trawsffurfio. "Os un fydd farw, pawb fydd fyw," meddai Daud, hynny yw David – wel, dyna ni – ond, am ba gost? Wrth gwrs, ei fab trwy'r llwyn gyda Helen – y talp hwn o gnawd – anap y lleian yn wir – sy'n goroesi eto. Mae'n enaid cryf iawn – 'neno'r Hen Dduwdodau Rhyfedd, mae'n endid cryfach na'r un sy wedi bodoli ar wyneb y Blaned ddistadl hon cyn hyn. Fe fydd bywyd eithriadol o bwysig o'i flaen, heb os, a dyna oedd fy mwriad o'r cychwyn cyntaf.
Un o golledion y Cythrwfl Mawr oedd Daud Pekar, David Baxter, yn wir, mewn ffordd o siarad. Ac fel y dyfalech, rwy'n credu mai ffyrdd o siarad sy'n creu'r Byd cydsyniol a rennir gennym i gyd. Fodd bynnag, er gwaethaf fy nymuniad i fy hun o ran datgan i David farw'n arwr, mae'r ddau ddyn arall oedd gydag ef pan ymadawodd yntau a ddywedai fel arall. Yn wir, fe fyddai Stevie a Jack yn mynd ar eu llw i David – heddwch i'w lwch (fel petai!) – ffoi o'r goelcerth, heb geisio'u hachub nhw o gwbl. Mae Stevie yn honni'n breifat mai efe a lusgodd yr Ewythr a'r Cymrawd i ddiogelwch. Roedd Jack yn dweud nad oedd yn gwybod beth oedd wedi digwydd, ond ei fod yn sicr mai Stevie a'i helpodd ef, tra oedd David yn ceisio ei ladd ef.
Beth oedd y gwir amgylchiadau'n perthyn i'r noson honno, a beth a ddigwyddodd i David? Ni fydd neb yn gwybod i sicrwydd erioed. Ond yr ydym wedi gwneud ein gorau glas i anrhydeddu'r Arwr Anffodus. Ac felly, yng nghysgod pinwydden y mae David yn cysgu'n dawel yr awron – wel, unwaith eto mewn ffordd o siarad am na ddaethon ni erioed o hyd i'w gorff yn adfeilion y bwthyn. Yr oedd, serch hynny, dalp enfawr o glai wedi'i grasu ar ffurf dyn neu epa yno, a dyna sydd yn llenwi'r bedd bellach. Eto i gyd, ni all y Swt dieflig 'na beidio â mynd i ymweld ag ysbryd ei hen archelyn o leiaf. Mae'r bwystfil drygionus yn dal i grafu ar y garreg fedd drwy'r amser, a gwneud beth bynnag y mae anifeiliaid yn ei wneud i farcio'u tiriogaeth, fel petai nad ydy'n dymuno i'r llanc druan orffwys mewn hedd.
Dyma oedd stori gyfan Daud yn ei eiriau ei hun, felly, am a wyddom – ond, dyma fi'n ailadrodd: Pa rannau sy'n gywir? A allai fod nad dim ond crebwyll ryw genau bach a gam-driniwyd yn echrydus, ac aeth yn orffwyll, yw'r rhan fwyaf ohoni? A feiddiwch farnu, ac os felly, pwy a farna'r barnwyr? Ond eto i gyd, dyma fi, y Dewin Ieuengaf blaenorol (bron), wedi trefnu'r manylion i gyd y tu hwnt i'r llenni er mwyn creu'r holl sefyllfa hon. Ac rwy wedi gwneud hyn gyda chymorth anfodlon yr Hen Filwr, fy mrawd di-feddwl-ddrwg hŷn (wel roedd e yn y niwl ynghylch fy nghynllun gwir i drawsffurfio Dynolryw, beth bynnag), oedd yn fwy tebyg i Dad imi. Noder yma, hefyd, fy nhri enw, mewn tystiolaeth o'm rhan gymhleth a hanfodol yn yr hanes hwn.
Dyna David, Dai, yr un peth â'n prif gymeriad; Balrog. sydd wedi'i gysylltu â'r teulu Grossmann, llawn dynion mawr; a Procter, hynny yw 'Gwarchodwr,' a darddodd o'n hendadau, amser Taith Fawr Sorakados. Er gwaethaf popeth, rhyfelwr dewr oedd Jack, yn y bôn, ac un deallus hefyd. a ddymunai ddatrys problemau trwy fynd wrthi nerth meddwl, enaid a chorff. Pwy a wyddai y buasai'n glynu wrth fywyd Daearol cyhyd a chyn gryfed, mor filain, wrth gredu ar yr un pryd yn yr hyn sydd i ddod? Ac efallai nad yr hyn a ddychmygech na disgwyl mohonof fi, ychwaith, er nad yr union amser cywir ydy i sôn am bethau o'r fath yn awr. Pan fydd fy – ein – cyfnod o alar drosodd, fe fydd y Gwaith Mawr yn dal i aros i'w wneud.
I gloi'r bennod hon, felly, am y tro o leiaf, esgusodwch fi am chwarae rhan y Pregethwr wrth imi ddweud y geiriau canlynol. Ffarwél – Daud, David, Dai, Dá∙hwyth – y llanc hwnnw oedd â chymaint o enwau gwahanol! Dan dy fendith (fel petai)! Y Delw-addolwyr Dioglyd Dirifedi (a'r Dewiniaid mwyaf nerthol yn y Ddau Fyd ydynt hwy oll hefyd) a'th ddiogelo rhag ysglyfaethu'r Saith Swynwr Seraffiaid, pa le bynnag y byddych. Caniataont hwythau iti – ac inni i gyd – ennill iachawdwriaeth, pa beth bynnag fo honno, wrth inni weddïo — "Oddi mewn i'r cysgodion boed i olau ymdarddu!" — D.B.P.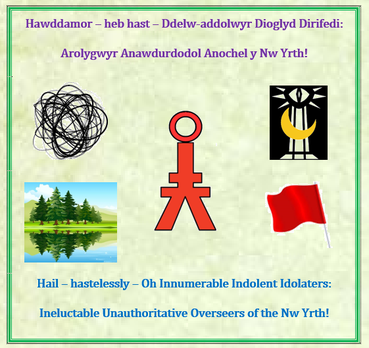 ---