---

---
[The Endless History of the Holiest World-Wide Church] Uthil Zuzas would not allow Rev-zilé to leave, inviting her to materialize inside a sphere of black hornblende that he then wrapped in a thin layer of silver so that she could not escape. And there she stayed, ranting and roaring, betraying a great many secret words, before she shared the secret of writing with him. And that is what she did at last, but unwillingly, and whilst cursing her words as she said them, completely contrary to her revelation to Nilroth from the burning pomegranate tree. Uthil Zuzas insisted on having this tool to promote the development of society and expand his influence [*]. He saw that he could create a permanent record of his greatness, his laws, his doctrine, and his perfect social order for generations to come, even when the people's memory had shrunk to nothing. Documents created by him, containing established hieroglyphs, and strong symbols, would be much better than an arbitrary, oral record, which always changed and died like a living creature. With writing, he would cut a path from the pitch-black bog created by the tongue's enchanting strength, which beguiled listeners with the promise of pristine discernment, but then deceived them and confused their feeble minds. And so Uza-ma-Dauth would be his name. It is he who would possess the Language of Heaven, and he who would control it, and command it, and use it, in its immaculate and unchanging purity.
[Love, Loss, Coleoptera] And although I didn't want to do it, I had to stare at her. I then saw that her face was the familiar face of my poor Mum, whom I loved so much, until she went; and even more, then. That moment, I felt so lonely, so full of longing, the images around me were so thick and strange, and my heart broke. But as soon as I had grasped who was there before me, I went into a panic to see there not the ashen face of a sick woman dying of wasting disease, but first the visage of an exceedingly beautiful princess with black gloss on her perfect lips, and then the image of a highly dignified and harsh old woman in the bloody uniform of a nurse. I was shaken to the core from realizing that I was in the presence of the Triple Goddess herself. And then – my heart almost stopping – there appeared my own face, filled with fear, and rage – and hate. Immediately, as the dawn begin to break, I was snatched far away to the very top of the keep.
He saw himself as a technologist building a perfect explanatory machine, which would follow the text's sober and abstract blueprint to overcome the failings of natural spoken utterance. He would become Parent of the Nation; the founder of a sacred tradition; the source, disseminator, and arbiter of truth; and the sustainer of state power down through the millennia. He would break the link between the oppressive authority of the degenerate biological family and the servile obligation of the children, and rend the chain binding the master's unearned honour to the blind dedication of the pupil. Furthermore, permanent inscriptions would form a very close link between the living and the dead, between the security of the past and the possibilities of the future. And so, they started building Houses of Rebirth and filling them with the strange and powerful holy glyphs that they loved and feared at the same time.
And then I extended my arms to oppress the Cruel Earth, as threads of darkness and light sprang from my body to connect me with everyone and everything in the Two Worlds, like an umbilical cord linking mother and baby. And, Ooh, it was such a great feeling! I had jumped into the void, hoping to be annihilated, but instead had been rescued, or saved – but for what purpose in particular? Then, there opened in front of me a completely black square, and around it, on emerald mountains, chimeras consisting of blood-red wolves, purple lions, indigo tigers, and a white dragon burning everything with sweet flames.
But the writing became a trap and a nightmare for Uza-ma-Dauth, since he finally came to believe that his ideas were completely worthless if they had not been written down, and broadcast, and read by others, and indeed by all the Cruel Earth. And as he scribbled more and more, and as more people swallowed the words without the author being there to control the process and prevent an incorrect reading, they began, as usual, to pronounce the words with their own unique intonation, and change them, and worse, they persisted in analyzing for themselves. And then, without the master's authority, they would devise completely opposing interpretations, and let themselves see suggestive, debased, and fascinating meanings in the texts, and create fanciful stories from them.
I floated then for ages, it seems, sailing over the All-World on a flying bed. Whilst searching in the Southern Reach, near the Dog Star, for hidden information about dissolving fear and commanding love, I thought, "Never ever wake me from this sleep. But be sure that as I have strolled the path of the stars, meditating, so also I have been weeping uncontrollably." Maybe I reached Muze-mara by chance, visiting Ví-aza's vast dodecahedron. Wherever I was, I found some organic annihilation engine, or some transformation machine. Because I didn't know what I was doing, I was enchanted by it, and I called it down to lie like a syringe stuck fast in the addicted World's flesh. Although I did this, where it had come from, or even what it really was, is still a complete mystery. But sometimes when you open doors, unexpected and unwanted things get through, I learned to my own cost.
And as other people heard the stories in their turn, they began to gather random meanings to make sense of the materials already in existence. From the public discourse came mythology, and from this came ideology, one faction using the words as a basis and excuse to belittle, harm, or exterminate the other. The written word, which was originally supposed to be a source of law, a repository of medication, and a means of salvation, also became a curse, poison, and scapegoat for numerous evils. And so too was magic born, a small, dumb monster, without a species or particular form, but terrifying, especially because of its ability to achieve all its aims without qualms. And woe betide them! The first act of the new regime was a perversion of justice. Behold the Warlike Foster-mother from the old legend who killed her husband the Vicious Mime-artist by telling him jokes until he laughed himself to death. And then she was defended by the Burlesque Clown from the Absurd Circus who used the freedom of the mask and the make-up to juggle with language, persuading the court that it was not possible for anyone in their right mind to believe that words could harm someone. And so, she was acquitted of all charges, and went on to murder the King, and then, many years later, to wreak havoc over the whole of the Cruel Earth.
And I had summoned it, and switched it on, or woken it up, so that it made itself known and poured out its digestive juices to feed on the World, or to embrace it, maybe, in its own way. Like a living scrying-screen, it had mockingly started sucking in whatever stood so meekly in front of it, becoming like it, and imitating it using the raw materials around it. How, or why, it acts to achieve its aims, and what these are, I'll never guess. It's like a parasite forming such a perfect symbiosis with the Host Planet that it merges completely with it, playing a ghastly game whilst mashing and distorting everything it creates in its Brave, New World.
And behold! This is what will happen if one strays from the orthodox path of goodness. Gradually, over the millennia, the Nava-thalí tribe grew bored with segregating themselves from the rest of the Cruel Earth, performing the rituals, and keeping the sacred candle burning in the House of Rebirth in the huge ziggurat in the heart of the city. And woe betide them! The members of one caste did work appropriate to those of other castes, defiling themselves abominably. And as soon as the holy flame shivered and went out for the first time in centuries due to the unfaithfulness of the Nava-thalí, the ranks of the Despot of Nin-vethí shattered the walls of their city, and bore them away to Aliz-íya. And there, the Del-hurí was the natives' name for the exiles. And they suffered desperately, weeping, and wailing, and gnashing their teeth, when they were not working their fingers to the bone in the salt-mines, which were almost bottomless, and extremely hot.
Still under the intoxicating influence of the potion, and not really cottoning on to what I was doing, I wrote a letter to whoever might find it in the future, putting down my ideas and explaining what was driving me on. When I sobered up, later on, and came back to Hellsgate, I hid it somewhere without reading it. I felt that they were still laughing at me, somehow, the Old Otherworldly Gods, seeing me still alive, but in wretched pain all the time because of my wounds. I saw then that I hadn't died in the first place, and so, well … They were extremely cruel, and were playing horrible tricks on me. Or maybe they didn't give a damn at all. But for sure, one thing I did know – my lame attempts at doing magic had nothing at all to do with this complete cock-up.
And there only one of them called Tho-vítha from the Nava-thalí tribe kept the law of Uthil Zuzas in its true form, despite the order of the City Masters, stealing the exiles' corpses and dissolving them in sacred acid. When his wife died after eating one seed from a strangely tasty pomegranate she had stolen from the Princess's Garden, Tho-vítha cremated her on top of an open tower, reciting, "Behold the Daughter of Pain, thrown into the fire in the hand of Victory in the hateful land of Aliz-íya. The law requires that one put the dead in the blasted soil where they fall. But this foreign bird, crown of the folk of Thali-himila, shall never be interred, but she shall escape again as is her wont." The Masters were not pleased to hear this at all, and they accused Tho-vítha of murdering her. As a punishment, he was blinded by a flock of black doves and white crows, who ripped his eyes out as he prayed for salvation, before he was driven out from Nin-vethí to die in the great, red desert beyond the walls.
So, I'm dead sorry, I know that all this guesswork is unfinished and muddled. But despite the all the shortcomings, I hope it's not for nothing, by the Indolent Idolaters! Having said that, my magic gadgets aren't working anymore, my spells are broken, and I don't have any real answers since I can't bring myself to ask the ugly questions. It is as if there's a door in front of me, and it's ajar, and there's loads of amazing treasure the other side of it, but also some loud noise like wild animals in the blackness inside.
There, in the great, red desert, the Cosmic Power appeared to Tho-vítha in the form of Rev-zilé. If he had been able to use his eyes, he would have seen that she was standing on the Crescent Moon with a flock of red butterflies that quickly turned into tiny birds flying around her, and a circlet of stars on her head. She was untying knots in a long, purple ribbon, as her feet trampled a snake curled beneath her, and a large, yellow lizard to boot. Rev-zilé told him, "The bond of disbelief has been freed by the obedience of your faith even in a strange land. Go with me to Ev-thana, where a demon called Az-mothus is killing all the bridegrooms on their wedding-nights!" Tho-vítha agreed as he had no other choice. And on their way there, Rev-zilé told him to catch a fish, and cook it. Tho-vítha did so, and with the help of Rev-zilé, he discovered that the fish's boiling bile cured blindness, and that a paste containing the heart and liver would cast out demons.
I need to stare at whatever's there amongst the squalor and the stench, but I'm not strong enough, and step back gingerly, closing the door and sneaking off. I'm appalled because everything's so crazy and senseless, and I know there's no way to win a game if you're playing without a full deck of cards. But here I am shouting with all my heart that the things driving me on aren't selfish, and I'll keep on trying to change the Cruel Earth with the parties, and the music, and the Big Message, and so I'm not giving up hope just yet.
Tho-vítha cured himself of his blindness, and went to Ev-thana to cast the demon out. He could then see, although he did not have eyes in his head. When they reached Ev-thana, Tho-vítha did that. And then he married Ze-ríya, one of the brides who had lost her lover, and settled there, on top of a mountain called Ek-lesya, and became extremely rich, by selling ready-made potions of all kinds that he concocted with the help of Rev-zilé. And so, they declared their good deeds, and worshipped, and gave praise, and fasted, and gave alms, in accordance with the teachings of Uthil Zuzas, and the luxurious house at the top of the mountain became a shrine, and then a temple. And after that, Ek-lesya would be the name of every temple, shrine, and house of worship. And a message went back to the exiles in Nin-vethí in Aliz-íya because of that.
But, every night, the howling beast that wants to possess me lets me know it still reigns over the Vale of Rushes. This is the Walker in Darkness from whose face heaven and earth fled ages ago. Its fingers are extremely long. It makes a sucking sound, like its teeth've been wrenched from the gums. The red eyes with no whites shine, full of blood. It stretches its limbs so very slowly out from the shadows, reaching for me.
Because of this, the Nava-thalí all turned back to the way of Uthil Zuzas. And so, the Cosmic Power sent enemies to destroy Nin-vethí completely, allowing the Nava-thalí to return home at last. And that is what it did, but not before it saw fit to write the fate of Nin-vethí on the wall of the Palace of Unfading Majesty in incomprehensible bloody symbols. But before the Nava-thalí escaped, they visited Ev-thana, and got married there, as there were so many single women available, and so few eligible men. And so, the number of the faithful increased significantly. Thus they went around under the auspices of the Cosmic Power, using holy religious rituals to get rid of the clan of disgusting demons that had appeared everywhere, and then marrying the local folk. And as a result, the number of members in Ek-lesya Ev-thana grew tremendously, and they spread over all the Cruel Earth, creating Ek-lesya Vith-yahní, the World-Wide Church.
There's screaming, howling, roaring, everything warping, ripping, breaking into smithereens. No sense, just terrible beating. The more I try to escape, the harder it is for me to breathe. I can't move. The harder I try to concentrate, the less I can focus. Everything's coming apart, and something, some parts of me, leave me, flying away on the heedless breeze, as some senseless yet strangely familiar blathering fills my mind —
The Archimandrites of the Temple would not tolerate the slightest disobedience, and those so foolish as to oppose them would pay the ultimate penalty, being executed, and put to death, by the sentence of Ek-lesya Vith-yahní, with water, and sword, and fire. But, it is written, there was one tribe who succeeded in escaping from them, so heinously cunning were they, eking an existence like beasts ceaselessly wandering the harsh desert, destitute and homeless. And, it is said, there they gave themselves over to frightful practices involving idol-worship, and rituals around an enormous cauldron of green brass, and worst of all, human sacrifice to false gods who visited them from a Harsh Planet revolving around the Dog Star in the Southern Reach. But because of their evil, their uncleanliness, and their sorcery, they were like invisible spirits amongst the yellow sand, the bare mountains, and the endless plains, and even the best assassins could not catch them to exterminate them. Some said that it was magic that they practised, and poison that they prepared, and devilish, extraterrestrial spirits that directed them. And the names of these alarming entities, so they said, were Las-ven, Kas-las, Nek-vas, Sak-sal, Ven-sak, Sal-kas, and Nev-las. Thus, as they continued to roam the wasteland beyond the bounds of civilization unchecked, amongst the legions of beetles and other hateful creatures, the unbelievers remained a harrowing thorn in the side of the Supreme Father-Church, even unto today. But whilst accepting that, every member of the World-wide Church rejoiced, reciting the immortal words of the Most Reverend Father Shaman-no – "Life is holy torture, suffering the inevitable fate of all, especially the great; one must accept the pain without complaint; it is a blessing to battle eternally against the oldest enemies."
And there are the voices of those disgusting old beetles like chattering teeth,
"... dalatha, bravlu, klendru, eshempa – silpistí, madrolu, bamlaru, zileví – turikikihí, thirularop, bahuakah, veraza – endilda, andíshis, lilivalis, kestala – brubumbu, elentlova, kualuru, tithihenta – anvisashé, kouroakrí, ankelrerek, shezesista – vilizda, huiklé, vildarsí, delkurí,"
over and over. I hate them, and want to get rid of them once and for all, but I'm sure, too, they're pestering me about something specific I should know, or remember, or understand. My attention wanders off like the Old Man of the Woods when I listen to them, and I spend days on the Nw Yrth in me mind while only half an hour has passed here on the Cruel Earth. I can't stop remembering the Charm of Union from the joyful Green Zone over the sea, home to the Eyrwian coffee, and the golden spikni, and the leprechauns who weave rainbows – "I am you, and you are me; our own world shall be; where all will be free; live in glee then shall we."
The earliest Archimandrites set to, performing their holy duties so zealously and sharing the uncompromising message of painful salvation through complete submission to the One True Church in the hope of dying undefiled and reuniting with the Cosmic Power. And as they did this, they had visions of the Ecclesiastical Splendour to come. And lo, there were spirits from the future, abbesses, high-priestesses, elders, cardinals, bishops, vicars, matriarchs, priests, popes, patriarchs, parsons, preachers, prelates, and prophetesses, processing in front of their lovingly violent eyes. And how greedily did those eyes feast upon the albs, the chasubles, the copes, the fantastic masks, the mitres, the white gloves, the jewelled rings, the multi-coloured coats, and on all the other symbols of the sacred offices. Then they were shown the sceptres, the armies, and the armoured vehicles, the palaces, the treasuries, the courts, and the fortresses, which they would have to create to spread and defend the marvellous message. They were filled with abject terror, and indescribable pride, and all-consuming zeal. And they swore that they would never give up the good fight until the very end of the Cruel Earth.
And then, Oh! Then my thoughts turn back to that Otherworldly Princess, Jelena, Helen, Elen, Eilidh, Helena, Aileen, Alyiona. Elena, the Fickle Moon is she – the gracious custodian, my sweetheart, my shadow, my strength, my trouble, my life, and the enchanting jailer too! I chase her all day and all night, but she always gets away from me. Oooh, something very big's gotta happen, sometime very soon. Or I'm goin' to explode!
*             *             *             *             *             *             *             *
[*] No one has officially succeeded – as far as I know – in interpreting either the nature or the contents of this writing system, For sure, they have not published the results of their efforts if they have found any answers. But, after exhausting myself meditating, through dreary nights too many to count, delving into quaint and curious volumes of forgotten lore, I discovered, despite how weak any weary I was, various tentative ideas regarding it. I imagine that the symbols are like those that follow.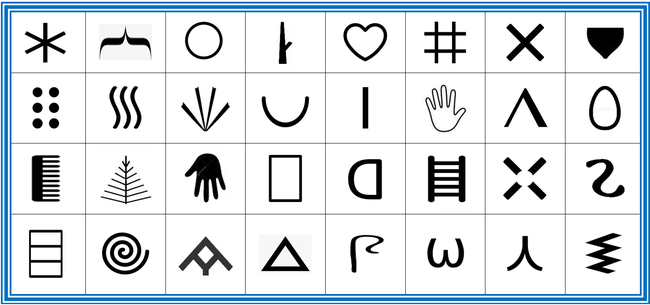 In my mind's eye I see glyphs dancing – aviform, circle, claviform, cordiform, hash, cruciform, cupule, dot, finger-fluting, flabelliform, semicircle, line, negative hand, open-angle, oval, pectiform, penniform, positive hand, quadrangle, reniform, scalariform, segmented cruciform, serpentiform, tectiform plan, spiral, tectiform sideview, triangle, unciform, w-shape, y-shape, and zigzag. Did they form a pictography or syllabary, an alphabet or an abjad? I'll never know. But the pictures are doubtless full of power. And as everyone knows, the EGO's sweated blood to create its own language to obfuscate, rule and dominate. Maybe my own research, despite how insignificant and unfinished it is, will function to strengthen the audience's hearts and minds, and give them tools to resist and subvert the attacks by the ecclesiastical linguistic terrorists (and I've not even mentioned the slobbering statespersons here!). In terms of sound-enchantment, G.Ll. will have plenty to say about Hlothu's Disks, Thuhlo's Magic Squares, and glossolalia in due course. — P.M.
---
---
---

---
[Hanes Diderfyn yr Eglwys Fyd-Eang Gysegr-lân] Fyddai Uthil Zuzas ddim yn gadael i Rev-zilé adael, gan ei gwahodd i ymrithio tu mewn i sffêr o gornblith ddu a'i lapiodd wedyn mewn haen denau o arian fel na allai hi ddianc. Ac yno arhosai hi'n rhefru a rhuo, wrth fradychu llawer iawn o eiriau cyfrin, cyn iddi rannu cyfrinach ysgrifennu gyda fe. A dyna a wnaeth hi o'r diwedd, ond yn anfodlon, ac wrth felltithio'i geiriau wrth iddi'u dweud nhw, yn hollol groes i'w datguddiad wrth Nilroth o'r goeden bomgranad yn llosgi. Roedd Uthil Zuzas yn mynnu cael y teclyn hwn i hybu datblygiad cymdeithas ac ehangu'i ddylanwad. Gwelai y gallai greu cofnod parhaol o'i fawredd, ei gyfreithiau, ei athrawiaeth, a'i drefn gymdeithasol berffaith i genedlaethau i ddod, hyd yn oed pan fyddai cof y werin wedi crebachu i ddim. Byddai dogfennau wedi'u creu ganddo yntau, yn cynnwys heiroglyphau sefydlog, a symbolau cryf, yn well o lawer na chofnod llafar, mympwyol, fyddai bob amser yn newid a marw fel creadur byw. Gydag ysgrifennu, fe fyddai'n torri llwybr o'r gors bygddu wedi'i chreu gan nerth swynol y tafod, oedd yn rheibio gwrandawyr ag addewid dirnadaeth gyntefig, ond wedyn yn eu twyllo a drysu eu meddyliau pitw. Ac felly Uza-ma-Dauth fyddai'i enw. Efe fyddai biau Iaith y Nef, ac efe fyddai'n ei rheoli a'i gorchymyn, a'i defnyddio, yn ei phurdeb dilychwin a digyfnewid.
[Cariad, Colled, Chwilod] Ac er do'n i'm yn moyn ei neud, roedd yn rhaid i fi syllu arni hi. Fe weles i wedyn taw ei hwyneb hi oedd wyneb cyfarwydd 'yn Mam druan, ro'n i'n charu gymaint nes iddi fynd; a hyd yn oed fwy, wedyn. Y foment 'na, ro'n i'n teimlo mor unig, mor llawn hiraeth, oedd y delweddau o 'nghwmpas mor drwchus a rhyfedd, a thorrodd 'nghalon. Ond cyn gynted â nes i amgyffred pwy oedd yno o 'mlaen i, es i i wylltio o weld nad wyneb gwelw menyw sâl yn marw o glefydd nychu oedd yno, ond yn gynta wedd tywysoges brydferth tu hwnt ac ar ei gwefusau perffaith finlliw du, ac wedyn delwedd hen wraig dra urddasol a llym yn iwnifform waedlyd nyrs. Ro'n i di dychryn trwo i o sylweddoli taw yng ngŵydd y Dduwies Driphlyg ei hunan o'n i. Ac wedyn – a bron i 'nghalon stopio – ymddangosodd 'yn wyneb i'n hunan, yn llawn ofn, a llid – a chasineb. Gyda'r gair, a'r wawr yn dechrau torri, fe ges i 'nghipio ymhell y tu uchaf i'r gorthwr.
Fe'i gwelai'i hun fel technolegwr yn adeiladu peiriant eglurhaol, perffaith, fyddai'n dilyn glasbrint sobr a haniaethol y testun i oresgyn methiannau parabl naturiol. Efe a ddeuai'n Rhiant i'r Genedl; sefydlwr traddodiad sanctaidd; ffynhonnell, lledaenwr, a chyflafareddwr gwirionedd; a chynhaliwr grym y wladwriaeth drwy'r milenia. Efe fyddai'n torri'r cysylltiad rhwng awdurdod gormesol y teulu biolegol dirywiedig a rhwymedigaeth daeog y plant, a rhwygo'r gadwyn yn rhwymo anrhydedd anhaeddiannol y meistr ac ymroddiad dall y disgybl. Ymhellach, fe ffurfiai arysgrifau parhaol gysylltiad agos iawn rhwng y rhai byw a'r rhai marw, rhwng sicrwydd y gorffennol a phosibiliadau'r dyfodol. Dechreuon nhw felly adeiladu Tai Aileni a'u llenwi nhw â'r glyffiau glân, rhyfedd a nerthol, ro'n nhw'n eu caru a'u hofni ar yr un pryd.
A dyna o'n i'n estyn 'mreichiau i ormesu'r Ddaear Greulon, wrth i edau o dywyllwch a golau darddi o 'nghorff i 'nghysylltu â phawb a phopeth yn y Ddau Fyd, fel cortyn bogail yn cysylltu mam a babi. Ac Www, roedd yn deimlad mor wych! Ro'n i wedi neidio i'r gwacter, gan obeithio cael 'nileu, ond yn lle 'ny wedi cael 'yn achub, neu'n arbed – ond i ba bwrpas yn enwedig? Agorodd sgwâr hollol ddu o 'mlaen i wedyn, ac o'i amgylch ar fynyddoedd emrallt, gimerâu'n cynnwys blaidd gwaetgoch, llewod piws, teigrod indigo a draig wen yn llosgi popeth â fflamau melys.
Ond daeth yr ysgrifennu'n fagl a hunllef i Uza-ma-Dauth, am iddo ddod i gredu o'r diwedd fod ei syniadau'n hollol ddi-werth os nad o'n nhw wedi'u hysgrifennu, a'u darlledu, a'u darllen gan eraill, ac yn wir gan yr holl Ddaear Greulon. Ac wrth iddo sgriblan fwyfwy, ac wrth i fwy o bobl lyncu'r geiriau heb fod yr awdur yno i reoli'r broses ac atal darlleniad anghywir, fe ddechreuon nhw, yn ôl eu harfer, ynganu'r geiriau â'u goslef unigryw eu hunain, a'u newid nhw, ac yn waeth, fe ddalion nhw ati i ddadansoddi drostyn nhw'u hunain. Ac wedyn, heb awdurdod y meistr, fe ddyfeisien nhw ddehongliadau cwbl groes, a gadael iddyn nhwythau weld ystyron awgrymiadol, sathredig, a chyfareddol yn y testunau, a chreu hanesion ffansïol ganddyn nhw.
Arnofiwn i wedyn am hydoedd, mae'n ymddangos, gan hwylio dros yr Holl Fyd ar wely hedegog. Wrth chwilio yn yr Hyd Deheuol, ger Seren y Ci, am wybodaeth guddiedig ynghylch diddymu ofn a gorchymyn cariad, ro'n i'n meddwl, "Peidiwch byth â'm deffro o'r cwsg hwn. Ond byddwch yn sicr, fel rwy wedi rhodio llwybr y sêr dan fyfyrio, felly dw i hefyd wedi bod yn beichio llefain." Falle i fi gyrraedd Muze-mara ar hap, gan ymweld â dodecahedron dirfawr Ví-aza. Ble bynnag ro'n i, fe ddes i o hyd i ryw injan difodi organig, neu ryw beiriant trawsffurfio. Am nad o'n i'n gwbod beth o'n i'n neud, ges i 'nghyfareddu ganddo, a nes i'i alw i lawr i orwedd fel chwistrell yn sownd yng nghnawd y Byd o gaethydd. Er bod finnau a naeth hyn, o ble roedd wedi dod, neu hyd yn oed beth oedd e mewn gwirionedd, yw dirgelwch llwyr o hyd. Ond rywbryd pan fyddwch chi'n agor drysau, bydd pethau annisgwyl nad oes eu heisiau yn dod drwyddo, fe ddysges i ar 'nhraul 'yn hun.
Ac wrth i bobl eraill glywed y straeon yn eu tro, fe ddechreuon nhw gasglu ystyron ar hap i neud synnwyr o'r deunyddiau'n bodoli'n barod. O'r araith gyhoeddus, daeth mytholeg, ac o hon tyfodd ideoleg, a'r naill garfan yn defnyddio'r geiriau fel sail ac esgus i fychanu, niweidio, neu ddifodi'r llall. Daeth y gair ysgrifenedig, oedd i fod yn wreiddiol yn ffynhonnell cyfraith, cronfa meddyginiaeth, a moddion iachawdwriaeth, hefyd yn felltith, gwenwyn, a buwch ddihangol i fynych abredau. Ac felly hefyd fe gafodd hudoliaeth ei eni, yn anghenfil bach, mud, heb rywogaeth na ffurf benodol, ond yn frawychus yn enwedig o achos ei gallu i gyflawni pob diben yn ddiedifar. A gwae nhw! Gweithred gyntaf y drefn newydd oedd gwyrdroi cyfiawnder. Wele'r Famfaeth Ryfelgar o'r hen chwedl a laddodd ei gŵr y Meimiwr Milain trwy ddweud jôcs wrtho nes iddo chwerthin i farwolaeth. Ac wedyn fe gafodd ei hamddiffyn gan y Clown Bwrlésg o'r Syrcas Absẃrd a ddefnyddiai ryddid y masg a'r colur i jyglo ag iaith, gan ddarbwyllo'r llys nad oedd yn bosib i ddyn yn ei iawn bwyll gredu mai geiriau allai niweidio neb. Ac felly fe gafodd hithau'i rhyddfarnu'n euog o bob cyhuddiad, ac aeth yn ei blaen i lofruddio'r Brenin, ac wedyn, flynyddoedd maith yn ddiweddarach, i wneud difrod ar y Ddaear Greulon oll.
Ac ro'n i wedi'i wysio, a'i danio, neu'i ddeffro, nes iddo amlygu'i hun ac arllwys ei suddion treulio ma's i fwydo ar y Byd, neu'i fwytho fe, falle, yn ôl ei arfer ei hun. Fel sgrin sgrio byw, roedd wedi gwatwarus ddechrau sugno i mewn be bynnag safai mor addfwyn o'i flaen, ac ymdebygu iddo, a'i ddynwared gan ddefnyddio'r deunyddiau crai o'i gwmpas. Sut, neu pam, mae'n gweithredu i gyflawni'i nodau, a beth yw'r rhain, fydda innau fyth yn dyfalu. Mae fel parasit yn ffurfio symbiosis mor berffaith â'r Blaned Letyol fel mae'n uno'n llwyr â fe, gan chwarae gêm ddychrynllyd wrth falu a gwyrdroi popeth mae'n ei greu yn ei Fyd Newydd, Braf.
Ac wele! Dyma beth fydd yn digwydd o fynd ar gyfeiliorn oddi ar lwybr daioni, uniongred. Yn raddol, dros y milenia, diflasai llwyth Nava-thalí ar ymneilltuo o weddill y Ddaear Greulon, perfformio'r defodau, a chadw'r gannwyll gysegredig yn llosgi yn Nhŷ Aileni yn y sigwrat enfawr yng nghalon y ddinas. A gwae nhw! Bu i aelodau un cast wneud gwaith oedd yn gymwys i aelodau cast arall, gan eu halogi'u hunain'n ddybryd. A chyda'r fflam lân yn crynu a diffodd am y tro cyntaf mewn canrifoedd o achos anffyddlondeb y Nava-thalí, fe falodd rhengoedd Teyrn Nin-vethí waliau'u dinas, a'u cipio ymaith i Aliz-íya. Ac yno, y Del-hurí oedd enw'r brodorion ar yr alltudion. Ac ro'n nhw'n dioddef yn enbyd dan wylo, ac ubain, a rhincian eu dannedd, pan nad o'n nhw'n gweithio hyd at yr asgwrn yn y pyllau halen oedd bron yn ddiwaelod, ac yn andros o boeth.
A finnau'n dal dan ddylanwad meddwol y cyffur a heb sylweddoli'n wir beth o'n i'n neud, fe sgrifennes i lythyr at bwy bynnag fyddai'n dod o hyd iddo yn y dyfodol, yn cynnwys 'yn syniadau ac esbonio beth oedd yn 'ngyrru i 'mlaen. Pan ddes i at 'nghoed yn nes 'mlaen, a dod yn ôl i Byrth-y-Fall, fe guddies i fe yn rhywle heb ei ddarllen. Ro'n i'n teimlo'u bod nhw'n chwerthin am 'mhen i o hyd, rywsut, yr Hen Dduwiau Arallfydol, o 'ngweld i'n dal i fyw, ond mewn poen ddirfawr drwy'r amser o achos y briwiau. Gweles i wedyn do'n i'm wedi marw yn y lle cynta, ac felly, wel … Ro'n nhw'n greulon dros ben, ac yn gwneud troeon gwael â fi. Neu, falle, doedd dim taten o ots da nhw. Ond yn wir, un peth wyddwn i –doedd a nelo 'ngheisiadau cloff i ar fwrw hud ddim byd o gwbl â'r cawlach llwyr 'ma.
Ac yno dim ond un ohonyn nhw o'r enw Tho-vítha o lwyth y Nava-thalí a gadwai gyfraith Uthil Zuzas yn ei gwir ffurf, er gwaethaf gorchymyn Meistri'r Ddinas, gan gipio celanedd yr alltudion a'u hydoddi mewn asid sanctaidd. Pan fu farw ei wraig ar ôl bwyta un hedyn o bomgranad rhyfedd o flasus a ddygodd o ardd y Dywysoges, naeth Tho-víthah ei hamlosgi ar ben tŵr agored, gan adrodd, "Wele Ferch Dolur wedi'i thaflu i'r tân yn llaw Buddugoliaeth yng ngwlad gas Aliz-íya. Fe fyn y gyfraith fod rhaid i ddyn roi'r meirwon yn y pridd mall ble maen nhw'n cwympo. Ond ni chaiff yr aderyn dieithr hwn, coron gwerin Thali-Himila, fyth ei ddaearu, ond fe fydd yn dianc eto fel arfer." Doedd y Meistri ddim yn falch o glywed hyn o gwbl, a chyhuddon nhw Tho-vítha o'i lladd. Fel cosb, fe gafodd ei ddallu gan haid o golomennod duon a brain gwynion, a rwygodd ei lygaid allan wrth iddo weddïo am achubiaeth, cyn iddo gael ei allyrru o Nin-vethí i farw yn yr anialdir mawr, coch y tu hwnt i'r muriau.
Felly, mae'n wir flin da fi, dw i'n gwbod taw anorffenedig ac anfanwl yw'r holl ddyfaliad 'ma. Ond er gwaetha'r diffygion oll, gobeithio dyw e'm yn ddiffrwyth, myn y Delw-addolwyr Dioglyd! Wedi dweud 'ny, dyw 'nheclynnau hud ddim yn gweithio rhagor, mae'n swynganeuon wedi torri, a does 'run ateb go iawn 'da fi, a dyna achos dw i'm yn gallu 'ngorfodi fy hunan i ofyn y cwestiynau hagr. Mae fel petai drws o 'mlaen i, yn gilagored, a llawer o drysor ansbaradigaethus tu draw iddo, ond hefyd rhyw sŵn uchel fel anifeiliaid gwyllt yn y düwch tu fewn.
Yno, yn yr anialdir mawr, coch, ymddangosodd y Pŵer Cosmig i Tho-vítha ar ffurf Rev-zilé. Pe buasai wedi gallu defnyddio'i lygaid, fe fyddai wedi gweld bod hithau'n sefyll ar y Lloer Gilgant gyda haid o bilipalod cochion yn chwim droi'n adar bychain yn hedfan o'i chwmpas, a chylch o sêr am ei phen. Roedd hi'n datod clymau mewn rhuban hir, porffor, a'i thraed yn sathru ar sarff wedi torchi oddi dani, a madfall fawr, felen, hefyd. Dywedodd Rev-zilé wrtho: "Mae cwlwm anghred wedi'i ryddhau gan ufudd-dod eich ffydd hyd yn oed mewn gwlad estron. Ewch gyda fi i Ev-thana, ble mae cythraul o'r enw Az-mothus yn lladd yr holl briodfeibion ar noson y briodas!" Fe gytunodd Tho-vítha oblegid nid oedd ganddo ddewis arall. Ac ar eu ffordd yno dwedodd Rev-zilé wrtho am ddal pysgodyn, a'i goginio. Fe wnaeth Tho-vítha hynny, a chyda chymorth Rev-zilé, fe ddarganfu fod bustl berwedig y pysgod yn gwella dellni, ac y byddai past yn cynnwys y galon a'r iau'n bwrw allan gythreuliaid.
Dw i angen craffu ar beth bynnag sy yno ymhlith y budreddi a'r drewdod, ond dw i'm yn ddigon cryf, ac yn camu'n ôl yn dawel, gan gau'r drws a sleifio bant. Dw i'n brawychu achos bod popeth mor wallgo a disynnwyr, a dw i'n gwbod does dim ffordd o ennill gêm os dych chi'n chwarae heb bac llawn o gardiau. Ond dyma fi'n gweiddi o galon dyw'r pethau'n 'ngyrru i 'mlaen ddim yn hunanol, ac fe fydda i'n dal ati i drio newid y Ddaear Greulon gyda'r partïon, a'r gerddoriaeth, a'r Neges Fawr, ac o ganlyniad dw i'm yn digalonni 'to.
Fe iachaodd Tho-vítha ei hun o'r dallineb, ac aeth i Ev-thana i fwrw'r cythraul allan. Fe fedrai weld wedyn, er nad oedd ganddo lygaid yn ei ben. Pan gyrhaeddon nhw Ev-thana, fe wnaeth Tho-vítha hynny. Ac wedyn, briododd e Ze-ríya, un o'r priodferched oedd wedi colli'i chariad, ac ymgartrefu yno, ar ben mynydd o'r enw Ek-lesya, a dod yn gyfoethog dros ben, trwy werthu ffisig parod o bob math a wnâi gyda chefnogaeth Rev-zilé. A hwythau'n datgan eu gweithredoedd da, ac addoli, a rhoi clod, ac ymprydio a rhoi elusen yn unol â dysgedigaeth Uthil Zuzas, fe ddaeth y tŷ moethus ar ben y mynydd yn gysegr ac wedyn yn deml. Ac ar ôl hynny, Ek-lesya fyddai'r enw ar bob teml, cysegr, a thŷ addoli. Ac fe aeth neges yn ôl i'r alltudion yn Nin-vethí yn Aliz-íya o ganlyniad i hynny.
Ond, bob nos, mae'r bwystfil yn udo sy'n moyn 'yn meddiannu'n rhoi gwybod i fi ei fod yn teyrnasu o hyd dros Fro'r Brwyn. Dyma'r Rhodiwr mewn Tywyllwch a rhag ei wep ffodd daear a nef amser maith yn ôl. Mae'i fysedd yn eithriadol o hir. Mae'n neud sŵn sugno, fel 'sai'i ddannedd wedi'u tynnu o'r deintgig. Mae'r llygaid coch heb unrhyw gwyn ynddyn nhw'n sgleinio, yn llawn gwaed. Mae'n lledu'i aelodau'n ara ara ma's o'r cysgodion, gan estyn amdana i.
Oblegid hyn, fe drodd y Nava-thalí oll yn ôl at ffordd Uthil Zuzas. Ac felly fe anfonodd y Pŵer Cosmig elynion i ddinistrio Nin-vethí yn llwyr, gan adael i'r Nava-thalí ddychwelyd adref o'r diwedd. A dyna a wnaeth, ond nid cyn iddo weld yn dda ysgrifennu ffawd Nin-vethí ar wal Palas Mawredd Anniflan mewn symbolau annealladwy o waed. Ond cyn i'r Nava-thalí ddianc, fe ymwelon nhw ag Ev-thana, a phriodi yno, gan fod cynifer o fenywod sengl ar gael, a chyn lleied o ddynion priodadwy. Ac felly gwnaeth nifer y ffyddloniaid gynyddu'n sylweddol. A dyna lle'r o'n nhw yn mynd o gwmpas dan nawdd y Pŵer Cosmig, gan ddefnyddio defodau crefyddol glân i gael gwared ar y llwyth o gythreuliaid ffiaidd a ymddangosasai ym mhob man, ac wedyn priodi'r werin leol. Ac felly y tyfodd y nifer o aelodau yn Ek-lesya Ev-thana yn aruthrol, ac ymledon nhw dros y Ddaear Greulon oll, gan greu Ek-lesya Vith-yahní, yr Eglwys Fyd-Eang.
Dyna sgrechian, udo, rhuo, popeth yn warpio, yn rhwygo, yn torri'n deilchion. Sdim synnwyr, dim ond curo ofnadw. Mwya'n y byd mod i'n trio dianc, anodda'n y byd ydy i fi anadlu. Dw i'm yn gallu symud. Mwya'n y byd mod i'n trio canolbwyntio, lleia'n y byd mod i'n gallu ffocysu. Mae popeth yn dod oddi wrth ei gilydd, a rhywbeth, rhai rhannau ohona i, yn 'y ngadael i, gan hedfan bant ar yr awel ddihidio, wrth i ryw faldorddi dissynnwyr ond rhyfeddol o gyfarwydd lenwi'n meddwl i —
Ni oddefai Archimandriaid y Deml y mynmryn lleiaf o anufudd-dod, ac fe fyddai'r rhai hynny mor ffôl ag i'w herio nhw'n talu'r gosb eithaf, gan gael eu dienyddio, a'u rhoi i farwolaeth drwy ddedfryd Ek-lesya Vith-yahní â dŵr, a chleddyf, a thân. Ond, ysgrifennir, roedd un llwyth a lwyddodd i ddianc rhagddyn nhw gan mor anfad o gyfrwys o'n nhw, gan grafu byw fel bwystfilod yn crwydro'n amddifad a digartref yn yr anialdir llwm. A, meddir, fe fydden nhw'n ymroi i arferiadau dychrynllyd yn golygu delw-addoliaeth, a defodau o gwmpas crochan enfawr o bres gwyrdd, ac yn waethaf oll, aberth dynol i au dduwiau a ymunai â nhw o Blaned Yrth yn troi o gwmpas Seren y Ci yn yr Hyd Deheuol. Oherwydd eu drygioni, a'u bryntni, a'u swyngyfaredd, ro'n nhw fel ysbrydion anweledig ymhlith y tywod melyn, y mynyddoedd llwm, a'r gwastatiroedd diderfyn, ac ni fedrai hyd yn oed yr asasiniaid gorau eu dal nhw i'w difodi. Fe fyddai rhai'n dweud taw hud a ymarferen nhw, a gwenwyn a baratoen nhw, ac ysbrydion allfydol, dieflig a'u cyfarwydden nhw. Ac yr enwau ar yr endidau brawychus hyn, medden nhw, oedd Las-ven, Kas-las, Nek-vas, Sak-sal, Ven-sak, Sal-kas, a Nev-las. Felly wrth iddyn nhw ddal i rodio'r gorest y tu hwnt i ffiniau gwareiddiad heb lestair, ymhlith y llengoedd o chwilod a chreaduriaid atgas eraill, parhâi'r anghredinwyr yn ddraenen ingol yn ystlys y Dad-Eglwys Oruchaf, hyd at y dydd heddiw.  Ond wrth dderbyn hyn, gorfoleddai pob aelod o'r Eglwys Fyd-Eang, gan adrodd geiriau anfarwol y Parchedicaf Dad Shaman-no – "Artaith lân bywyd, ffawd anochel pawb dioddef, yn enwedig y mawrion; rhaid i ddyn dderbyn y boen heb gŵyn; bendith brwydro'n dragwyddol yn erbyn y gelynion hynaf."
A dyna leisiau'r hen chwilod ffiaidd 'na'n fel rhincian dannedd, yn dweud,
"... dalatha, bravlu, klendru, eshempa – silpistí, madrolu, bamlaru, zileví – turikikihí, thirularop, bahuakah, veraza – endilda, andíshis, lilivalis, kestala – brubumbu, elentlova, kualuru, tithihenta – anvisashé, kouroakrí, ankelrerek, shezesista – vilizda, huiklé, vildarsí, delkurí,"
drosodd a throsodd. Dw i'n eu casáu nhw, ac yn moyn eu difa'n llwyr, ond dw i'n siŵr hefyd fod nhw'n 'mhlagio i am rywbeth penodol ddylen i wbod, neu gofio, neu ddeall. Dw i'n llesmeirio fel Hen Ŵr y Coed wrth wrando arnyn nhw, ac yn hala dyddiau ar y Nw Yrth yn 'yn meddwl tra bydd dim ond hanner awr wedi pasio yma ar y Ddaear Greulon. Dw i'm yn gallu peidio cofio Swyn Uno o'r Parth Gwyrdd llawen dros y môr, yn gartre i'r coffi Eirwig, a'r spikni aur, a'r coblynnod sy'n gwau enfysion – "Y ti dw i, ac y fi wyt ti; ein byd ein hun fydd; ble pawb fydd yn rhydd; byw'n hoenus wnawn ni."
Aeth yr Archimandriaid cyntaf ati i berfformio'u dyletswyddau glân mor selog a rhannu'r neges ddigyfaddawd o waredigaeth boenus trwy ymostyngiad llwyr i'r Un Wir Eglwys yn y gobaith o drengu'n bur ac aduno a'r Pŵer Cosmig. Ac wrth iddyn nhw wneud hyn, fe gawson nhw weledigaethau o'r Ysblander Eglwysig i ddod. A dyna lle'r oedd ysbrydion o'r dyfodol, yn abadesau, arch offeiriadesau, blaenoriaid, cardinaliaid, esgobion, ficeriaid, matriarchiaid, offeiriaid, pabau, patriarchiaid, personau, pregethwyr, preladiaid, a phroffwydesau, yn gorymdeithio o flaen eu llygaid cariadus o dreisgar. Ac mor farus y gwleddai'r llygaid hynny ar yr albau, y casulau, y cobau, y masgiau ffantastig, y meitrau, y menig gwynion, y modrwyau gemog, y siacedi brithion, ac ar holl symbolau eraill y swyddogaethau sanctaidd. Wedyn fe ddangosid iddyn nhw y teyrnwiail, y byddinoedd, a'r cerbydau arfog, y palasau, y trysorfeydd, y llysoedd, a'r amddiffynfeydd, y byddai'n rhaid iddyn nhw eu creu i ledaenu ac amddiffyn y neges fendigedig. Fe gawson nhw eu llenwi ag arswyd llwyr, a balchder annisgrifiadwy, ac aidd hollysol. Ac fe dyngon nhw na fydden nhw byth yn rhoi'r gorau i'r frwydr dda hyd at ddiwedd olaf y Ddaear Greulon.
Ac wedyn, O! Dyna'n meddyliau'n troi'n ôl at y Dywysoges Arallfydol 'na, Jelena, Helen, Elen, Eilidh, Helena, Aileen, Alyiona. Elena, y Lleuad Oriog yw hi – y warchodwraig radlon, 'y nghariad, 'y nghysgod, 'y nghryfder, 'y ngofid, 'y mywyd, a cheidwad cyfareddol y carchar 'fyd! Dw i'n ei hymlid hi drwy'r dydd a gyda'r nos, ond mae hithau bob tro'n dianc rhagddo i. Www, rhaid i rywbeth mawr iawn ddigwydd, rywbryd yn fuan iawn. Neu dw i'n mynd i ffrwydro!
*             *             *             *             *             *             *             *
[*] Does neb wedi llwyddo'n swyddogol – am wn i – i ddehongli na natur na chynnwys y system ysgrifennu hon. I sicrwydd nad ydyn nhw ddim wedi cyhoeddi canlyniadau'u hymdrechion os dod o hyd i atebion a naethon nhw. Ond, ar ôl fy lladd fy hunan yn myfyrio, drwy nosweithiau syrffedus yn rhy niferus i'w cyfri, wrth dyrchu i gyfrolau henaidd a rhyfedd yn llawn llên anghofiedig, nes i ddarganfod, er mor wan a lluddedig o'n i, sawl syniad petrus yn ei chylch. Dw i'n dychmygu bod y symbolau fel y rhai a ganlyn.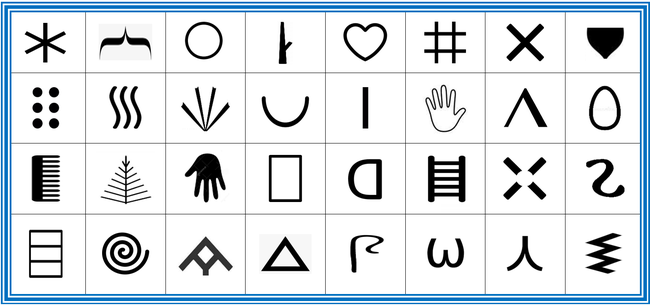 Yn llygaid fy meddwl dw i'n gweld glyffiau'n dawnsio, yn cyfateb i: seren, aderyn, cylch, allwedd, calon, hash, croes, cwpenyn dot, rhigolau bysedd, gwyntyll, hanner cylch, llinell, llaw negyddol, ongl agored, hirgrwn, coeden, pluen, llaw bositif, cwadrangl, aren, ysgol, croes heb ganol, sarff, cynllun to, sbiral, ochr-olwg to, triongl, bagl, canwyr dwbl, fforch, ac igam-ogam. O'n nhw'n ffurfio pictograffeg neu sillwyddor, gwyddor neu abjad? Dwn i fyth. Ond mae'r lluniau'n llawn nerth heb os. Ac fel gŵyr pawb, mae'r EFE wedi chwysu gwaed i greu'i hiaith ei hunan i ddrysu, rheoli a dominyddu. Efallai bydd fy ymchwil innau, er gwaetha mor bitw ac anorffenedig ydy, yn gweithredu i gryfhau calonnau a meddyliau'r gynulleidfa, a rhoi iddyn nhw daclau i wrthwynebu a thanseilio'r ymosodiadau gan y brawychwyr ieithyddol eglwysig (a dw i ddim wedi crybwyll y gwleidyddion glofoeriog yma!). O ran cyfaredd sain, bydd G.Ll. yn sôn yn helaeth am Ddisgiau Hlothu, Sgwariau Hud Thuhlo, a llefaru â thafodau maes o law. — P.M.
---